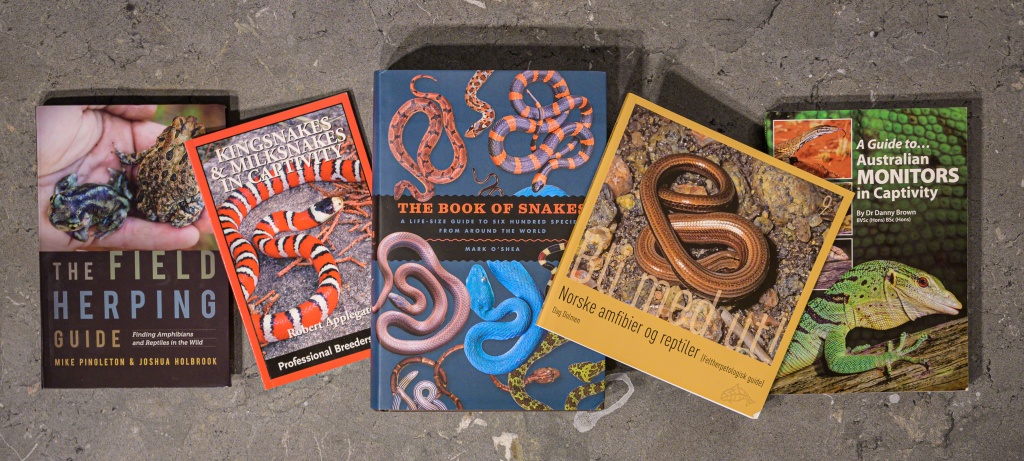 Bøker er en reptileiers største hjelper, kilde til informasjon og inspirasjon! Her har vi en liste over en rekke bøker vi anbefaler.
Denne listen vil oppdatere seg regelmessig.
Nordiske herptiler på nordisk språk
Huggorm – Karl H Brox
Norsk bok om hoggorm.
Nordens padder og krybdyr – Kåre Fog, Adam Schmedes, Dorthe Rosenørn de Larsson
Boken er dansk, og er veldig fin for de som ønsker å vite litt mer om herptiler rundt om i Skandinavia.
Norske amfibier og reptiler – Dag Dolmen
Enkel og grei bok om norske amfibier og reptiler. Står på norsk.
Hold og stell av arter
Naturalistic Keeping And Breeding of Hermann's Tortoises – Wolfgang Wegenhaupt
Et must for alle som har greske landskilpadder!
A guide to Australian monitors in Capitivity – Dr Danny Brown
En must for alle som digger varaner!
Ball Pythons, the history, natural history care and breeding – Tracy M. Barker, David G. Barker
En absolutt must for alle som elsker kongepyton.
The Ultimate Ball Python: Morph Maker Guide – Kevin McCurley
For de som er interessert i kongepytonmorpher, så er denne boken veldig god.
The complete boa constrictor – a comprehensive guide to the care, breeding and geographic races – Vincent Russo
En absolutt must for alle som digger Boa constrictor.
The MORE complete Boa Constrictor – Vincent Russo
En remake av den første versjonen av kongeboa-boka til Vincent Russo.
Green Tree Pythons, Natural history and captive maintenance – Justin Julander, Terry Phillip
Forholdsvis ny bok på stell og hold av trepyton – en must for alle GTP-eiere!
Kingsnakes and Milksnakes in Captivity – Robert Applegate
Enkel og grei bok om konge-og melkesnoker.
Keeping and breeding Australian lizards – Mike Swan
Spennende bok om australske arter.
Natural History of Neotropical Treeboas – Robert W. Henderson
En flott bok om stell og hold av hagetreboaer.
Generelt reptiler og amfibier
Herpetology – Laurie J. Vitt, Janalee P. Caldwell
En svært omfattende bok for de som er absolutt reptilnerder!
The New Encyclopedia of Snakes – Chris Mattison
Er du en slangenerd? Da er dette boka for deg!
Snakes and other Reptiles and Amphibians – DK
En flott bildeguide til en rekke forskjellige herptilarter.
The Book of Snakes, a life-size guide to six hundred species from around the world – Mark O'Shea
En fantastisk bok som enhver slangenerd burde ha i sitt bibliotek!
Firefly Encyclopedia of Reptiles and Amphibians – Chris Mattinson
En flott guide med bilder om herptiler generelt.
Biology and evolution of Crocodylians – Gordon Grigg, David Kirshner
"Bibelen" om krokodilledyr, absolutt en must for en som elsker krokodiller.
Fantastiske reptiler og amfibier – Tom Jackson
En flott illustrert bok om herptiler – en absolutt must for barn og voksne!
Venomous snakes of the world – Mark O'Shea
Giftige slanger er absolutt et spennende tema. Her er en flott introduksjonsbok på temaet.
Rattlesnakes of the United States and Canada – Manny Rubio
Klapperslanger er ufattelig fascinerende dyr – denne boka anbefales varmt.
Reptiles and Amphibians – Mark O'Shea, Tim Halliday
En flott og enkel guide til herptiler.
Feltherpetologi
The Field Herping Guide – Mike Pingleton, Joshua Holbrook
En absolutt must dersom du liker å finne herptiler ute i naturen!
Field Guid to the Amphibians and Reptiles of Britain and Europe
Jeroen Speybroeck, Wouter Beukema, Bobby Bok og Jan Van Der Voort

Den beste fieldguiden for Europa – her finner du alle Europas herptiler i bok fra 2016, noe som betyr at den er veldig oppdatert
Peterson Field Guide to Reptiles and Amphibians, of Eastern and Central North America – Robert Powell, Roger Conant, Joseph T. Collins
Skal du på ferie i USA på østsiden og har lyst til å identifisere de krypdyrene du kommer over der? Da er denne boka lur å ha med!
The snakes of Europe – Guido Kreiner
Flott bok om de europeiske slangene som finnes.
Reptiles and Amphibians, Britain and Europe – Nicholas Arnold, Denys Ovenden
Flott feltbok om britiske og europeiske herptiler.
A field guide to the Reptiles of Thailand – Tanya Chan-ard, John W. K. Parr, Jarujin Nabhitabhata
Nordmenn reiser da titt og ofte til Thailand – hva med å ha med seg en bok som hjelper deg å identifisere hva det er du ser av krypdyr?
Amphibians and Reptiles, British Herpfauna – Trevor Beebee, Richard Griffiths
En bok som omfatter herptiler fra Storbritannia.